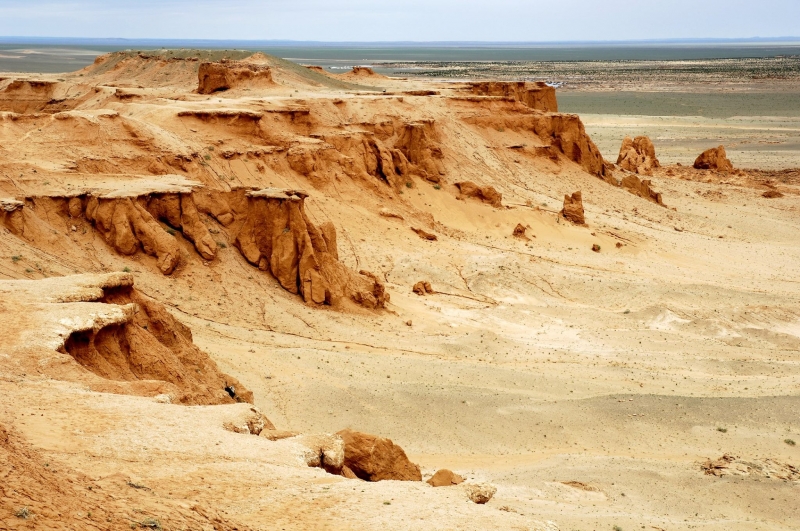 TOUR ITINERARY
---
/B - breakfast; L - lunch; D - dinner/
Day 1. Middle Gobi – Baga Gazariin Chuluu /L:D/
Today drive north to Middle Gobi province (400 km), through the endless green grassland and stunning natural scenery. En-route, meet the nomads on the steppe with their hordes of sheep, cattle or horses and enjoy a picnic lunch. In the late afternoon, reach Baga Gazriin Chuluu. Overnight in the area in a ger camp.
Day 2. Gobi Gurvan Saihan National Park – Three Beauty National park of Gobi /B:L:D/
Drive to Dalanzadgad which is about 600km. Lunch at Dalanzadgad city of South Gobi and visit a museum of the city. Drive to the Gobi Gurvan Saikhan National Park, visit famous Vulture gorge valley for trekking and opportunity to photograph the stunning landscape. Yoliin am is known for its stunning landscape, wildlife and ice gorge that stays frozen all year round. Overnight at the ger camp attached toilet and bathroom.
Day 3. Famous Flaming Cliffs /B:L:D/
After having breakfast at the camp. Drive to the Flaming Cliffs and explore the ancient rock formation of the red Bayanzag Cliffs, which contain vast amounts of dinosaur fossils and eggs. After lunch at the ger camp near flaming cliffs, drive to Moltsog sand dune where you will able to ride the camel to the sand dune. Possibility to ride the horse. Overnight at the camel breeding nomadic family. You will able to experience the way of the nomadic family daily lifestyle.
Day 4. Ongiin Khiid /B:L:D/
Travel to Saihan-Ovoo in the Middle Gobi area. Visit the ruins of Ongi Monastery which was founded in 1660 and housed 30 temples, four large Buddhist universities and over 1,000 monks at a time. Overnight in the area in a ger camp.
Day 5. Ulaanbaatar /B/
Drive back to Ulaanbaatar. On the way you will able to take a picture.